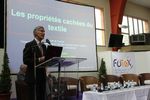 Joël de Rosnay, scientific writer and futurologist was born in 1937. He is the executive chairman of Biotics International and advisor to the president of Universcience (Cité des Sciences in France), Claudie Haigneré. He is particularly interested in advanced technologies and the applications of system theory. Very recently he wrote "Et l'Homme créa la vie. La folle avanture des architectes et des bricoleurs du vivant" in collaboration with Fabrice Papillon (2010). Joël is the pioneer of the surfing in south of France, Biarritz, the sport which he regularly practises.
The Futurologist was amongst the first authors to highlight the risks of global warming in the book "Le Macroscope" published in 1975. in particular, he has dealt with reclycling, bio-industry and bio-technology problems associated with the environment. In his book "2020: les scénarios du futur" published in 2007, he returns to the subject of threats that mankind is heaping onto the environment and offers solutions.
2 questions to Joël de Rosnay about smarts textiles:
1/ As sponsor for the 2011 event, what does the FUTEX Convention mean to you?
The possibility of focusing on the rapid developments in the area of intelligent textiles and new materials. And also, as far as I am concerned, of meeting profesisonals from the sector, taking part in searching debates and answering the ever interesting questions of participants.
2/ What inspires you about the latest innovations in technical textiles?
There are "ground-breaking" innovations with completely new materials, especially thanks to nano-technology, and there are "progressives" innovations with clothing textiles or textiles for the home. For example, odour-eating or antibacterial textiles.